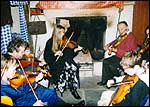 Local Pubs
Waterford pubs are renowned for their impromptu traditional music sessions! They're well worth a visit!
Contact:
Tigh Mhuirithe, Helvick Head (058) 46107
Tigh an Cheoil, Baile na nGall (058) 46209
Mooney`s Bar, Ring (058) 46204
« Return to listing
Arts and Crafts
Ex-Waterford Crystal engraver, Éamon Ó Turraoin, produces his own Criostal na Rinne (Ring Crystal) from his workshop which you can visit in Baile na nGall.
Contact:
Éamonn Ó Turraoin
Baile na nGall
An Rinn
Dúngarbhán
Co. Phort Láirge.
058 46174
« Return to listing